Do you want to plan a family reunion? There are a lot of details to take into account regardless of whether you're working with a group or by yourself.
Here is a family reunion planning guide that will help you plan a memorable reunion that your entire family will enjoy.
REUNIONS IN THE FAMILY ARE BENEFICIAL
Families often remain separated by distance or kept apart by day-to-day responsibilities, even though technology and social media make it easier for people to stay in touch. Reunions are becoming more important than ever and offer a number of advantages.
1. CELEBRATE YOUR HERITAGE
Family reunions bring generations together, old and young. Whether it is old family stories, treasured recipes, or beloved traditions, they are a way to preserve your family's history.
As part of a family reunion, you can also start new traditions to be passed down, allowing the younger generation to share their own values and ideas.
As well as learning about your ancestry, your family can learn about it at a family reunion. Discuss any cultural traditions your family has at the reunion. Honor your family's special characteristics.
2. HAVE FUN WITH ONE ANOTHER
When all is said and done, family reunions can be a lot of fun. During the holidays, loved ones can enjoy time together and participate in fun activities.
PLANNING A FAMILY REUNION
1. PLANNING THE ENTERTAINMENT
Activities that suit everyone are the key to a successful family reunion. Consider incorporating some fun amenities offered by your venue into your entertainment plans. Examples include:
Family auctions: During the reunion, some families conduct an auction to raise money for the following year's event. Competition during auctions can be fun. You can make it even more exciting by holding a white elephant sale or a silent auction.
Play trivia: Host a family trivia night. You can ask trivia questions related to pop culture, television, general knowledge – or you can ask questions specific to your family. Use questions like "Who is the oldest living family member? " or "How many redheads are in the family?"
Play-yard games: Take part in yard games such as cornhole, ladder ball, or croquet.
The game: Have a football or baseball game with your family if you love sports.
Card tournament: Divide into teams and hold a card tournament. The older generation will enjoy classic card games, such as Euchre and Gin Rummy. You can also try Uno or Phase 10 if you're looking for a new game to play.
Entertainment: If your budget permits, consider hiring a professional musician, magician, or comedian for your reunion. Let them take care of the entertainment while you relax and have fun.
Scavenger hunt: Organise a scavenger hunt for the whole family. For distant family members, this is a great way to break the ice and get to know one another. Use these facts to create your scavenger hunt list, and family members need to sign each item on the list. During the event, ask each attendee to write down an interesting fact about themselves, such as "I have six dogs." To win the game, players need to engage in conversation with all attendees.
Parties in the pool: Take advantage of the pool if it is available at your venue. On hot summer days, a pool can keep everyone cool, and it provides endless entertainment for kids.
The talent show: A talent show could be fun if you have a large group. Include sign-up instructions with your family reunion invitation. You might have a cousin who sings well or an uncle who tells the best jokes – this is your chance to showcase those talents.
Look into local tours, sightseeing opportunities, amusement parks, and other attractions if you are planning a destination or vacation reunion.
2. RESPONSIBILITIES OF DELEGATES
After you have developed a game plan, it is time to delegate responsibilities. Prepare a list of family members who will help you prepare and those who will assist during the event. A family reunion requires a lot of planning, especially for large families. Set up a family reunion planning committee if there is not already one. Get volunteers to take on different tasks, including:
Management of financial resources
The photography
Registration/greeters
Preparation and serving of food
Activities and entertainment
Cleaning
3. Create a backup plan
Anything can happen when you plan a large-scale event, especially when you plan it in advance. Be prepared with a backup venue, entertainer, or lodging. If you are holding an outdoor event, you need to have a backup plan. Having a backup organizer on hand could also be useful in case you are ill or have other personal obligations.
4. HISTORY OF THE CORPORATE FAMILY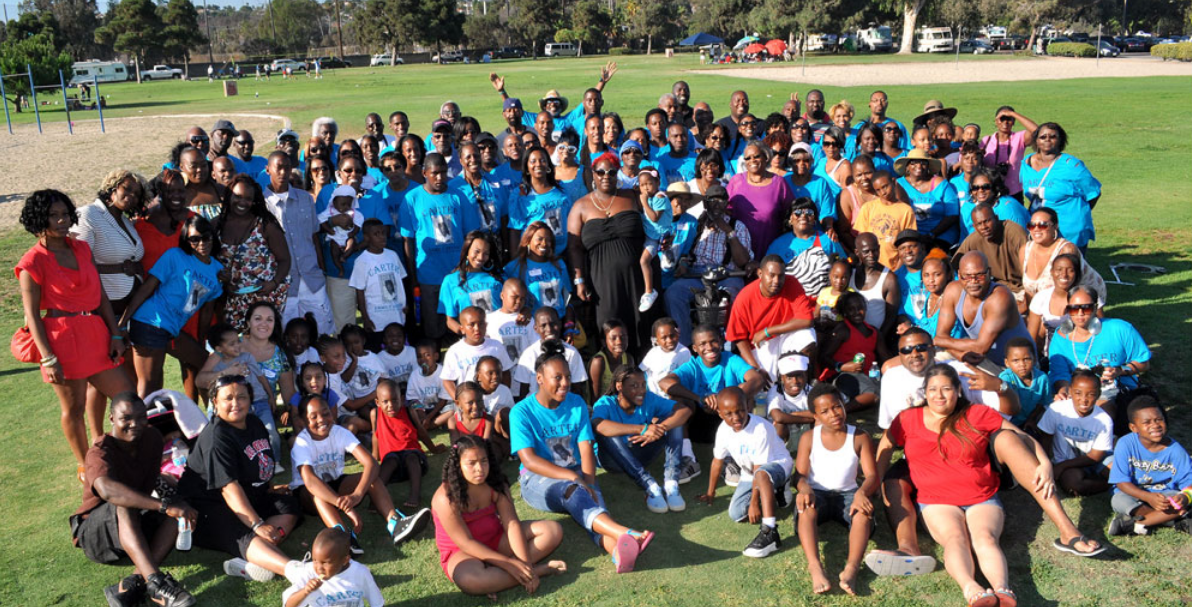 Throughout the event, make sure your family history is present. Your decorations and menu should reflect it. Tell your family's story with pictures, videos, and more by using the reunion to teach younger generations where they come from.
Family is at the center of a reunion, so make that the focus as much as possible:
Inauguration: Introduce new family members, such as babies or in-laws, at the event.
A family celebration: Perhaps it is great-grandma's 100th birthday or that a cousin has returned home after serving in the military. Whatever the reason, honor and celebrate your family members.
Remember: Share a few words or create a memorial to honor family members who have passed away since the last reunion.
5. VERIFY THE ESSENTIALS
Take the time to confirm essentials for a perfect family reunion. Contact your venue, caterer, and lodging a few weeks before the reunion. Communicate with friends and family members who are willing to help. They should know when to arrive and should bring any necessary items.
By verifying these details, you leave yourself plenty of leeways to make alternative arrangements if necessary.
6. Identify the details
It can be beneficial to work with a reunion planning committee or to recruit volunteers at this point. List all the details – and the contact information of the person responsible for handling them – that need to be addressed for the big event, including:
Place: Make sure your venue has plenty of parking. If possible, reserve those spots closest to the reunion site for elderly or disabled family members.
Parking: If your reunion site is a long way from the parking lot, plan how you'll shuttle people back and forth.
Service of food: How will the food be served and kept warm? Will beverages be kept cold? Confirm these details well in advance.
Set up the seating: Obtain and arrange to seat, serving tables, and comfortable chairs.
Decorating: Depending on the theme of your reunion, decorate accordingly. Display pictures of previous reunions and family members.
Volunteers: Recruit clean-up volunteers before the reunion ends. Waiting too long could result in people leaving before you have the chance to ask for help.
First-aid kit: Be prepared to treat minor injuries during the reunion, such as scraped knees and bee stings.
7. AFTER THE REUNION, CONDUCT A SURVEY
Family members should complete a survey before leaving the reunion – or in the weeks following it. Did they enjoy themselves? How could it be improved? Ask them what they would change next time. You can use or pass on honest feedback to the next planning committee.
8. REMEMBER WHY YOU ARE GETTING TOGETHER
Remember to relax on the big day. You worked hard to make this family reunion a reality – it's time to enjoy it. Do not let last-minute hiccups or the planning process overwhelm you. Remember why you are having the reunion in the first place. Enjoy your time with your loved ones. Take plenty of pictures to commemorate the event!
Also read about